We are a loving giving serving person. We commit to love, give and serve. Sharing will not make us poor, it will increase our wisdom, knowledge, and wealth.
We consistenly learn and grow to be an expert person, so that we can help our team member and all people around us to learn, grow, and master too. We are knowledgeable and love to share our knowledge to reach a better future for all of us.
We consistenly deliver outstanding or extraordinary quality products and services that add value for long term. Great just isn't good enough so we challenge our self for continuous improvement through innovation and creativity.
About Us
GISTEX is one of the leading textile industry in Bandung-West Java, Indonesia. We are an integrated textile industry whose process are started from producting yarn, weaving, and dyeing. Producing fabrics containing 100% of polyester. Our sales have already reached 3 million yards / month and the products are exported worldwide. We maintains the quality of our products by striving for continuous improvement within our management, importing high quality machines, selecting the best materials, and keeping on the development of our human recources.
To be a valuable asset for the nation, communities, and investors.
To be a company which provides facilities to the organizations members to reach their dreams.
To be the prominent company that has services and products which customers looking for.
To be the prominent company which dedicated to services and products for the customers.
Generosity
Integrity
Success
Teamwork
Education
eXcellence
Grow from good to great company. As we use this term "Great" means double digit revenue and profit growth each year from more
Innovation that serve our customer needs worldwide. It will surely require that we become more
Service oriented company instead of product company. We sincerely believe that
Together we can achieve this change, and make GISTEX a more
Exciting place to work than other competitor. In the process GISTEX will be
Xtraordinary company for stakeholder, customers, employees, and environment
Services
Quality is the most precious thing in products. We believe that quality never comes by accident. It comes from hard work and it is the result of huge efforts. We produce various products that would have been quite impossible to do previously and without losing the quality itself. This is so important so we can perform our high quality products, the best services, and reliability in delivery.
Facts
Gistex is committed to giving you good environment nature. To offer better products that are supported by more efficient services. To helps you apply filters to your textile product.
3 Million Yard
Production / Month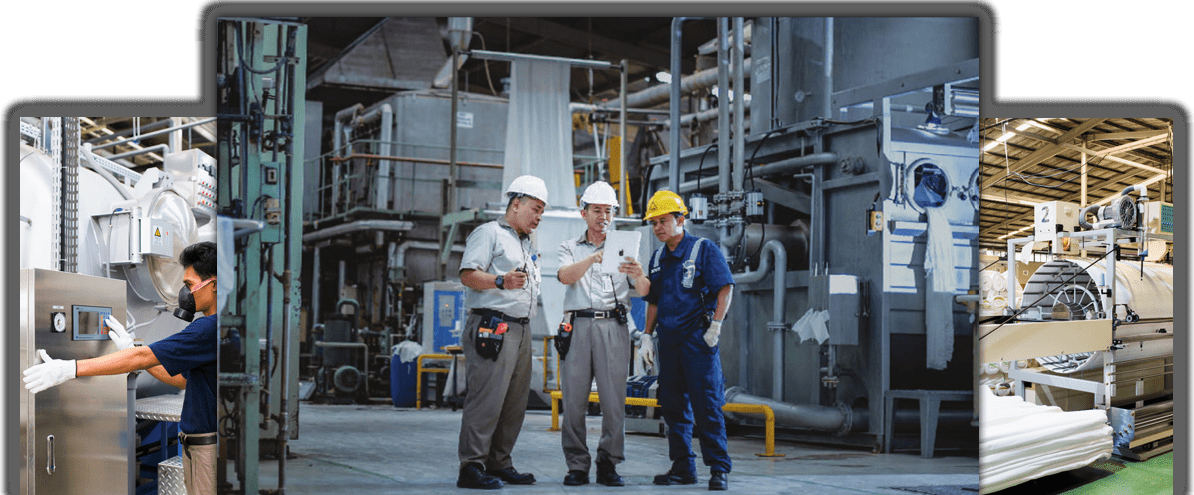 World Class Branded Garment
Major Wholesalers Market (US, EUROPE, MIDDLE EAST, OTHER)
Airlines Uniform